MASTERCLASS B.F.R
Use of the method for medical reinforcement
PEDAGOGICAL OBJECTIVES
At the end of the training, the participants will be able to propose Blood Flow Restriction (BFR) training in their management protocol by a medicalized reinforcement adapted according to the pathologies and their stages of severity.
PROCESS
This training course is offered in two formats:
1 mixed format: 5 hours of online training + 1 day of training (7 hours)
1 online format of 5 hours
ORGANIZATION
The practical workshops are organized during the face-to-face course and the theoretical part online.
SPEAKERS
Nicholas ROLNICK
Anthony MARTIN
Steeve CHIAPOLINI, Benjamin FRAISSE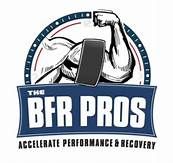 PRE-REQUISITES AND STAFFING
To be a physiotherapist DE or equivalent.
The number of trainees (metropolitan France) is a minimum of 16 and a maximum of 30 (supervised by a minimum of 2 trainers).
EVALUATIONS
Observation/evaluation sheets are kept to determine the acquisition of knowledge and gestures in accordance with the initial objective of the training. At the end of the training a final certificate is distributed.
Cette formation est reconnue aux USA par la NSCA, National Strength and Conditioning Association, la BOC et l'American College of Sports Medicine's Professional Education.

Presentation of the BFR by Germain SANIEL
The use of BFR, medicalized reinforcement, has become commonplace in the world of rehabilitation, sports and performance.
We propose you to know how to use it, justifying it, and in a safe way.
PEDAGOGICAL METHODS AND MEANS
Participatory oral or video presentation

Exchanges with participants and online messages

Demonstrative method and practical situation (mixed)
MEANS AND SUPPORTS
Access to the online platform
Mixed format: Slideshows + physiotherapy materials + paper and dematerialized supports.
AT THE END OF THE TRAINING
Evaluation by participants
The training is sanctioned by the delivery of a training completion certificate and an online certification.