BECOME AN EXPERT IN SPORTS PHYSIOTHERAPY
"More than a training, a real pedagogical experience".
The perfect balance between innovation, science and professional practice
PEDAGOGICAL OBJECTIVES
At the end of the training, the participants will be able to practice the specificity of sports physiotherapy. The training allows to acquire the necessary skills to take care of an athlete and to use the techniques given during the training.
PROGRESS
The discontinuous training course of 29 days (217.5 h) composed of 9 training courses of 3 to 4 consecutive days + 1 day of examination (written and practical), with the exception of the DOMTOM (6 training courses of 5 days).
+ A support platform of 200 hours of online content.
ORGANIZATION
All workshops are spread over a period of 11 to 14 months. They are organized around 4 main themes
Training,
Sports medicine,
Manual therapy,
Sports physiotherapy.
RECOGNITION
Recognized by the national council of the order of masseur-physiotherapists, it allows the exercise of the specificity of sports physiotherapy. The training is also recognized by the ECOSEP. All the contents are controlled by the scientific council.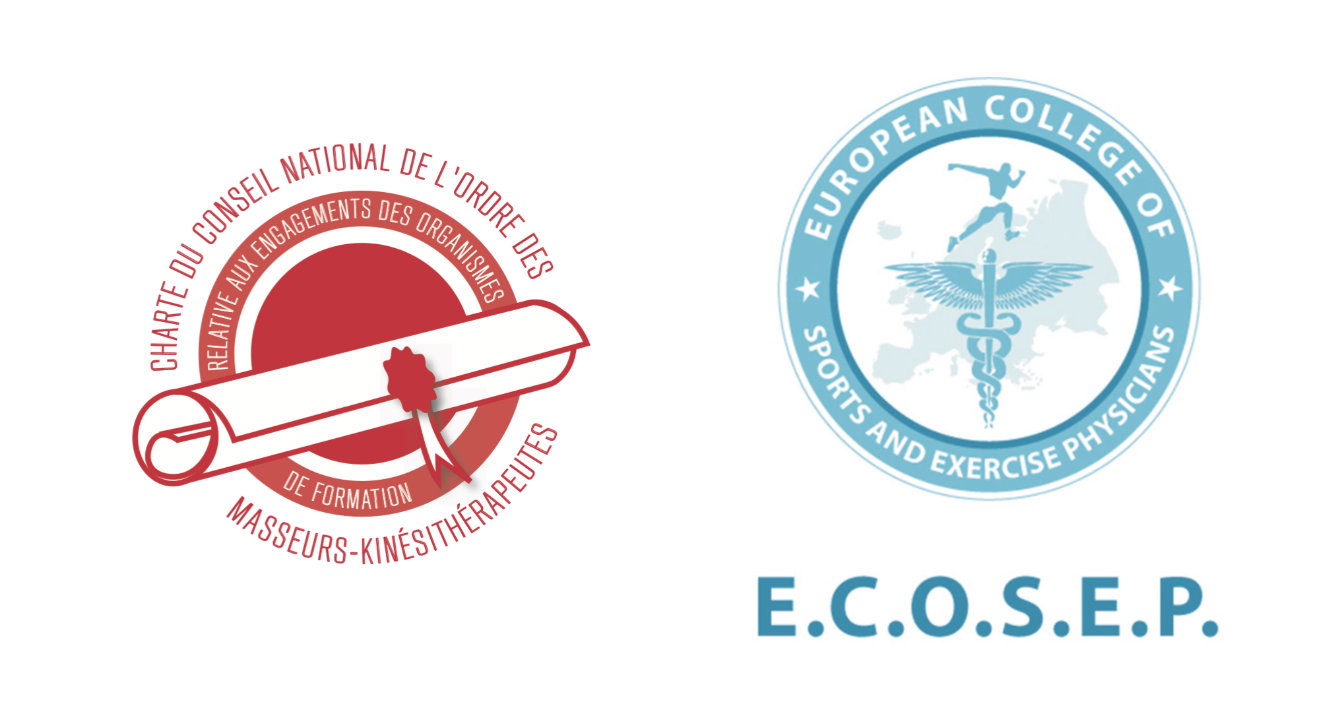 PRE-REQUISITES AND STAFFING
To be a physiotherapist DE or equivalent.
The number of trainees (metropolitan France) is a minimum of 16 and a maximum of 30 (supervised by a minimum of 2 trainers).
THE TRAINERS
EVALUATIONS
Online certifications are carried out for each module and observation/assessment sheets are kept to determine the knowledge/skills acquired in accordance with the initial objective of the training. The final exam is held on the last day.
NEW FORMAT TO BECOME AN EXPERT
Blended learning is a device, proposed by KINESPORT, which aims to combine two learning modules, namely face-to-face training and distance learning. The Blended learning (association of the two modes) allows you by connected environment, practical training courses and collaborative learning, to become a real actor of your training.
PEDAGOGICAL METHODS AND MEANS
Participatory oral presentation

Discussions with participants and group discussions
MEANS AND SUPPORTS
Slideshows
Physiotherapy equipment.
Paper and dematerialized supports.
Complementary videos.
On-line platform
AT THE END OF THE TRAINING
Evaluation of the training by the trainees
The training is sanctioned by the delivery of a certificate at the end of the training and a certificate allowing to affix a plaque displaying the specificity "Sports Physiotherapy".